WELCOME Learn or improve a new skill!! Do something new......
Our courses and classes cater for the absolute beginner, right through to the advanced upholsterer and we take great pride in developing your potential in both traitional and modern craft skills. So apply now.....
We are based in Battersea, Central London ............where you would be joining a friendly studio workshop environment.
Try our 'Five Day Intensive Course'. Apply now.
The Five Day Intensive can be taken at any level of proficiency from beginner to advanced with instruction and guidance given accordingly, it is aimed at people who want to speed up the learning process.
Alternatively look at the AMUSF Upholstery Qualification which is delivered in three stages with each stage being a qualification in its own right and being certificated separately.
• stage one: Craft Certificate – 210 hours
• stage two: Intermediate Craft Certificate – 210 hours
• stage three: Diploma – 210 hours
Each stage is designed to be delivered in approximately 210 hours with our Training Centre endeavouring to be flexible and arrange a timetable and commencement date to match your requirements as much as possible.
We offer different programme options and flexible start dates which are meant as guidance for students and seem to fit into most people's needs, if yours are different please don't hesitate and let us know your personal requirements and we will try to accommodate you as far as our own lives and the realities of our studio workshop permit us.
_______________________________________________________________
How to Apply:
Choose from our list of COURSES which class or course you wish to take.
Apply for a course or class, by filling in the REQUEST FORM on your course page.
Fees and start dates are also listed on the course or class page.
If you have an enquiry or wish to discuss personal requirements please call Sara on 020 7622 9347.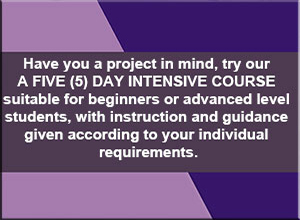 Training Centre Opening Times:
Monday to Friday: 9.00am to 3.00pm for courses during the week.
Tuesday Evening: 6.00pm to 9.00pm
______________________________________________________________
Built on over 30 years of experience, Barnett Upholsteries are a professional upholsterers and an AMUSF approved Upholstery Training Centre, we provide both accredited and non-accredited courses and classes.
We are committed to producing high quality upholstery and understand that our Training Centre needs to be an enjoyable and stimulating place to acquire these new skills and techniques, to this end we are dedicated to helping our students broaden their knowledge and achieve their potential.
We offer courses and classes of quality, in a vibrant socially diverse environment, our students come from a range of backgrounds with varying skill levels from the beginner right through to the graduate and professional. They might wish to develop or acquire a new skill for the pleasure of it or to get a job in the furniture industry or to launch a business as an upholsterer, furniture designer or furniture maker, they might indeed already be working in the furniture industry and wish to expand their existing skill set.
To this end we offer a variety of upholstery courses and classes which cater from the absolute beginner, right through to the advanced upholsterer. We take great pride in developing your potential, so please have a look through our unique range of courses.
| | | | |
| --- | --- | --- | --- |
| Join us and stay in touch. | | | |