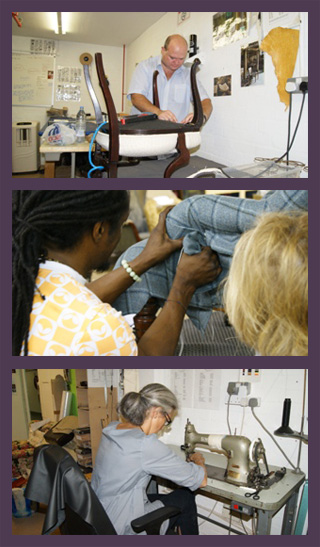 Built on 29 years of experience, Barnett Upholsteries are a professional upholsterers and an AMSUF approved Upholstery Training Centre, we provide both accredited and non-accredited courses and classes.
We are based in Battersea, Central London where our courses and classes are carried out within a fully functioning studio workshop environment.

_________________________________________________
Latest on Classes and Courses:
Do you have an upholstery project in mind, why not sign up for our FIVE (5) DAY INTENSIVE COURSE which we provide for those individuals who want to get stuck in. It is suitable for beginners or advanced level students, you bring along an item of furniture depending on your level of proficiency and instruction and guidance will be given according to your individual requirements.

Do you want to improve your traditional craft skills or as

an employer are you looking to train your staff

, book one of our approved AMSUF certified Upholstery Courses

and gain an upholstery qualification

. Please look under courses for details.
_________________________________________________
How to Apply:
Choose from our list of COURSES which class or course you wish to take.
Apply for a course or class, by filling in the BOOKING Request Form.
Fees and dates are also listed under BOOKING.

If you have an enquiry or wish to discuss personal requirements please call Sara on 020 7622 9347

.
_________________________________________________

We are very serious about our work, yet at the same time Barnett Upholsteries provides a fun place to learn new skills. Students are invited to attend our courses and classes to develop and broaden their knowledge and enjoy the benefit of our fully functioning worskshop and vast expertise in the craft of upholstery.
Our students come from all walks of life. They might be college graduates or professionals, wishing to develop new skills to get a job in the furniture industry. They might be planning to launch a business as an upholsterer, furniture designer or furniture maker. Or, perhaps they are already working in the furniture industry and just wish to expand their existing skills.
We offer a variety of upholstery classes to cater for a wide range of needs, from the absolute beginner, right through to the advanced upholsterer. We take great pride in developing your potential, so please have a look through our unique range of courses.
| | | | |
| --- | --- | --- | --- |
| Stay in touch.... | | | |