Latest on Classes and Courses: 2016 -17
Booking is open for all courses including the AMUSF professional accredit three stage course programme.
We accommodate and cater for the absolute beginner right through to the advanced upholsterer by offering a range non-accredited courses alongside our AMUSF accredit three stage programme of individually certified courses which are independently assessed and verified on an annual basis by the Association of Master Upholsterers and Soft Furnishers (AMUSF) the final stage leading to a diploma.
We take great pride in developing your potential and following independent assessment and verification our AMUSF students of 2015 gained 16 Distinctions, 3 Credits and 2 Passes.
Based in Battersea, Central London, our courses and classes are carried out in a friendly studio workshop environment.


The Centre opening times:
Monday to Friday: 9.00am to 3.00pm for courses during the week.
Saturday classes: 10.00am to 6.00pm
Tuesday Evening: 6.00pm to 9.00pm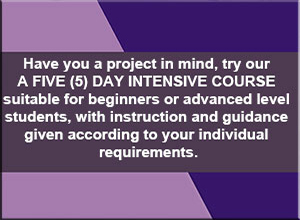 ________________________________________________________
How to Apply:
Choose from our list of COURSES which class or course you wish to take.
Apply for a course or class, by filling in the REQUEST FORM on your course page.
Fees and start dates are also listed on the course or class page.

If you have an enquiry or wish to discuss personal requirements please call Sara on 020 7622 9347

.
_________________________________________________

Built on over 30 years of experience, Barnett Upholsteries are a professional upholsterers and an AMUSF approved Upholstery Training Centre, we provide both accredited and non-accredited courses and classes.
We are committed to producing high quality upholstery and understand that our Training Centre needs to be an enjoyable and stimulating place to acquire these new skills and techniques, to this end we are dedicated to helping our students broaden their knowledge and achieve their potential.
We offer courses and classes of quality, in a vibrant socially diverse environment, our students come from a range of backgrounds with varying skill levels from the beginner right through to the graduate and professional. They might wish to develop or acquire a new skill for the pleasure of it or to get a job in the furniture industry or to launch a business as an upholsterer, furniture designer or furniture maker, they might indeed already be working in the furniture industry and wish to expand their existing skill set.
To this end we offer a variety of upholstery courses and classes which cater from the absolute beginner, right through to the advanced upholsterer. We take great pride in developing your potential, so please have a look through our unique range of courses.
| | | | |
| --- | --- | --- | --- |
| Join us and stay in touch. | | | |