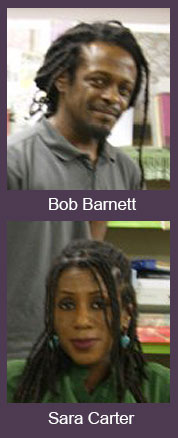 Bob Barnett and Sara Carter are committed and dedicated crafts people who share a love for textiles, design and upholstery.

Bob Barnett your guide and tutor trained at the London College of Furniture, graduating with distinction and credits in 1989. He has taught accredited and non accredited upholstery courses at various Adult Education Centres in London.
With over 29 years of experience Bob has acquired an extensive knowledge of both contemporary and traditional methods whilst being dedicated to the lasting quality and beauty of traditional craftsmanship. He is uncompromising in his attention to immaculate execution and detail and is always interested and willing to challenge boundaries while he encourages students to develop and find their own style.
Sara Carter a trained upholsterer is your first point of contact, her passion for textiles makes her an untiring help in sourcing the perfect fabric for your project. Barnett Upholsteries have accounts with all the leading fabric houses but we are always willing to search for the more obscure textile suppliers wherever they may be
Built on over 30 years of experience, Barnett Upholsteries are a professional upholsterers and an AMUSF approved Upholstery Training Centre, we provide both accredited and non-accredited courses and classes.
We are committed to producing high quality upholstery and understand that our Training Centre needs to be an enjoyable and stimulating place to acquire these new skills and techniques, to this end we are dedicated to helping our students broaden their knowledge and achieve their potential.
We offer courses and classes of quality, in a vibrant socially diverse environment, our students come from a range of backgrounds with varying skill levels from the beginner right through to the graduate and professional. They might wish to develop or acquire a new skill for the pleasure of it or to get a job in the furniture industry or to launch a business as an upholsterer, furniture designer or furniture maker, they might indeed already be working in the furniture industry and wish to expand their existing skill set.
To this end we offer a variety of upholstery courses and classes which cater from the absolute beginner, right through to the advanced upholsterer. We take great pride in developing your potential, so please have a look through our unique range of courses.